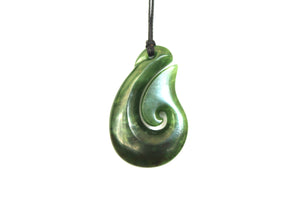 Waewae Pounamu
Medium Classic Matau
Regular price
$233.00
$0.00
Unit price
per
Tax included.
NTP 008
All Pounamu is sacred and highly valued by Ngāti Waewae. Carving this sacred stone has been a cornerstone of our culture for hundreds of years and we are honoured that you have chosen to adorn yourself with this most scared gift.

Traditionally, this taonga is found in the legend of Māui who used his magical hook to fish up the North Island of Aotearoa.
Contemporarily, the matau has come to represent the search for knowledge, prosperity and abundance. The matau also symbolises a safe passage over water.
Height = 54mm
Width = 34mm
Stone type: Kahurangi
Want to see more of this piece? Email us today at:
info@waewaepounamu.co.nz
Waewae Pounamu is proud to be part of the Ngāi Tahu Pounamu authentication system.
All authentic Waewae Pounamu pieces carry a unique traceability barcode that, when entered online, identifies the origin and history of the carving. This system guarantees that the stone has been obtained by legitimate means, and has been treated using appropriate cultural values.
Visit Ngai Tahu Pounamu to trace your piece.
---