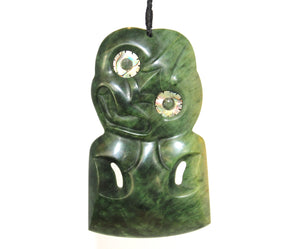 Waewae Pounamu
Kawakawa Hei Tiki
Regular price
$802.00
$802.00
Unit price
per
Tax included.
Kawakawa Hei Tiki- N200VN74
All Pounamu is sacred and highly valued by Ngāti Waewae. Carving this sacred stone has been a cornerstone of our culture for hundreds of years and we are honoured that you have chosen to adorn yourself with this most scared gift.

The Hei Tiki depicts the Māori god 'Tiki' who was the first man who originated from the stars and is considered responsible for the creation of life.

Contemporarily, the Hei Tiki has come to also represent a symbol of fertility, a good luck charm and a talisman against evil for the wearer. 
Length = 106mm

Width = 60mm
Stone type: Kawakawa
Waewae Pounamu is proud to be part of the Ngāi Tahu Pounamu authentication system.
All authentic Waewae Pounamu pieces carry a unique traceability barcode that, when entered online, identifies the origin and history of the carving. This system guarantees that the stone has been obtained by legitimate means, and has been treated using appropriate cultural values.
Visit Ngai Tahu Pounamu to trace your piece.
---